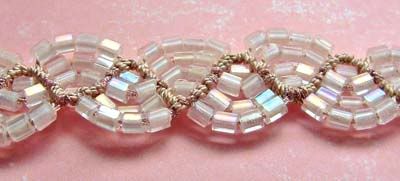 A sneak peek into my next macrame jewelry! This is the 5th piece in my collection. Continuing with the concept of combining foundamental macrame techniques with metal threads to create contemporary fashion jewelry, this new piece that is titled "Sea Waves" and is a matching bracelet for my earlier necklace
"Pink Mentos"
.
The key technique I used here is called a diagonal double half-hitch knots. The pinkish beige beads used are Japan made glass beads which are more uniform in size and has a pearl sheen with a blurish reflection. The contrasting shapes of the rectangular beads and the soft curves of the macrame create more interesting pattern. And the combination of metal and non-metal threads provides a subtle change in shine along the bracelet.
It will end on the other side with a "pink mento" button to match with the necklace.

The new bracelet will premiere in my store this weekend. So take advantage of the BOGO promotion this weekend. Or subscribe to my blog and get a 30% off any ONE item in my store if you miss the BOGO offer!*


*Cannot be combined. Subscription offer applies to product listing price and does not apply to shipping costs.